DRAGON: THE BRUCE LEE STORY
(1993)
Directed by Rob Cohen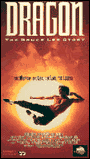 Cast: Jason Scott Lee, Lauren Holly, Robert Wagner, Michael Learned, Nancy Kwan, Kay Tong Lim, Ric Young, Luoyong Wang, Sterling Macer Jr., Sven-Ole Thorsen, John Cheung, Ong Soo Han, Eric Bruskotter, Aki Aleong, Chao Li Chi, Iain M. Parker, Sam Hau, Michelle Tennant, Clyde Kusatsu, Alicia Tao, Kong Kwok Keung, Johnny Cheung, Anthony Carpio, Chan Tat Kwong, John Lacy, Harry Stanback, Michael Cudlitz, Forry Smith, Van Williams, Sean Faro, Alan Eugster, Paul Raci, Ed Parker Jr., Shannon Lee, Robert Garrett, Lala Sloatman, Fu Suk Han, Nick Brandon, Louis Turenne, Paul Mantee, Jonathan Penner, Calvin Bartlett, Jan Solomita, Shannon Uno, Rob Cohen, Lau Pak Lam
More of a highly stylized kung fu flick (that has been seen in Jackie Chan movies and more recently in Jet Li's 2000 film entitled "Romeo Must Die") than a realistic biopic; this is one of those rare Hollywood movies to examine the immigrant experience from the perspective of a strong, resourceful Asian man.
A box-office hit, this film also affirmed Bruce Lee's importance to American popular culture. Cohen made a point to include several scenes depicting the discrimination that Bruce (played by Jason Scott Lee) endured in the U.S. Particularly notable is the scene where he sits stone-faced through a screening of "Breakfast at Tiffany's" while his fellow movie-goers laugh hysterically at Mickey Rooney's insulting, stereotypical performance as an Asian. Another shows Bruce's pain and frustration when the lead role in "Kung Fu" is taken away from him and given to David Carradine. The movie is also uncommon for its positive portrayal of an interracial romance between an Asian man and a white woman. But then again, that's how it really happened!
BEST OF THE BEST 2
(1993) Directed by Bob Radler
Cast: Eric Roberts, Phillip Rhee, Chris Penn, Edan Gross, Ralph Moeller, Meg Foster, Sonny Landham, Wayne Newton, Betty Carvalho, Simon Rhee, Claire Stansfield, Hayward Nishioka, Ken Nagayama, Frank Salsedo, Stefanos Miltsakakis, Myung Kue Kim, Patrick Kilpatrick, Mike Genovese, Nicholas Worth, Matt Thomas, Edward Bunker, David Rody, John Charles Sheeham, Robert Radler, Harry Hauss, Buckley Norris, Rain Ivana, Cliff Emmich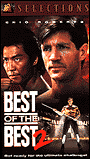 Two former members of the U.S. national karate team join forces to avenge the death of their friend, who was brutally slain in competition at an underground Las Vegas fighting club. An initial confrontation between the revenge-minded pair and the murderer leaves the evildoer with a horrible facial scar, and he vows to bury the two interlopers. After he makes a few attempts to gun the duo down, they finally settle the score in a bloody grudge match at the club.
SURF NINJAS
(1993)
Directed by Neal Isreal
Cast: Ernie Reyes Sr., Ernie Reyes Jr., Nicolas Cowan, Rob Schneider, Oliver Mills, Jonathan Schmock, Neal Israel, Brandon Karrer, Dathan Aragon, Phillip Bayless, Philip Tan, Keone Young, Sritao Thepchasoon, Leslie Nielsen, Nathan Jung, Thep Thien-Chai, Sa-Ngud, Sheng Meng, Tanin Tapmongkol, Montatip Kaewprasert, Tone Loc, Desi Singh, Young Jue, Kelly Hu, Marisa Theodore, Robert Terry Lee, Bowman Chung